GC51 pressuure transmitter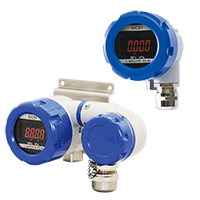 GC51
pressuure transmitter
This pressure transmitter is for gases and liquids measurements with 2-wire system. Compact and lightweight design suitable for outdoor use for a wide range of industries including HVAC, Factory automation, Process and Water treatment contributing for easy installation on site.
Feature
・Adjustable indication and output scaling are available.
・Breakthrough readability with LED-backlit LCD
・Small and lightweight design with 4-way pressure port directions: upper, lower, left and right
 (Lower, left and right for absolute model).